2020/2021-Nnamdi Azikiwe University (UNIZIK) Cut Off Mark (JAMB & Departmental) For Admission
Nnamdi Azikiwe University, UNIZIK cut off mark for the 2020/2021 academic session admission exercise. If you scored exactly or above UNIZIK cut off mark, that means you are qualified and eligible to take the Post UTME screening exercise, and getting marks below cutoff means you are not eligible or qualified for UNIZIK post UTME;
2020/2021-Nnamdi Azikiwe University (UNIZIK) Cut Off Mark (JAMB & Departmental) For Admission
Nnamdi Azikiwe University, Awka is a Federal university in Nigeria. Its main campus is located in the southeastern part of Nigeria in Anambra State's capital, Awka, and a second campus is at Nnewi. It is one of twenty-five federal universities which are overseen and accredited by the National Universities Commission. The university is named after Dr. Nnamdi Azikiwe.
SEE ALSO: Cut-off Marks for Other Universities, Polytechnics and Colleges.
UNIZIK Cut Off Marks.
The management of the Nnamdi Azikiwe University (UNIZIK) has released the cut-off mark for the 2020/2021 academic session admission exercise.
JAMB Cut-Off Marks.
Candidates who made Nnamdi Azikiwe University their first choice and have the required cut-off mark are eligible to apply
Recommended:
Faculties / Programmes with Cut-Off Mark of 200
Arts – English Language and Literature
Basic Medical Sciences – Anatomy and Physiology
Biosciences – Applied Microbiology and Brewing, Applied Biochemistry, Botany, Parasitology and Entomology and Zoology
Education – Educational Foundations, Educational Management & Policy
Health Sciences & Technology – Medical Lab Sciences, Nursing Science, Radiography, Medical Rehab (Physiotherapy), Environmental Health Science
Law
Management Sciences – Accountancy, Banking & Finance, Business Administration, Cooperative Economics & Management, Marketing, Public Administration and Entrepreneurship
Medicine – Medicine
Pharmaceutical Sciences – Pharmacy
Social Sciences – Economics, Psychology, Political Science, Mass Communication, Sociology/Anthropology.
Faculties/Programmes with Cut-Off Mark of 180
Agriculture – Agric Econs & Extension, Animal Science & Fisheries, Forestry & Wildlife, Food Science & Technology, Soil Science, Crop Science.
Arts – Igbo, African& Asian Studies, History & International Studies, Linguistics, Music, Philosophy, Modern European Languages, Religion & Human Relations, Theatre and Film Studies, and Chinese Studies.
Education – All programmes except Edu/English and Edu/Economics
Engineering – Agric & Bioresources Engineering, Polymer &Textiles Engineering.
Environmental Sciences – Only Architecture
Physical Sciences – Mathematics, Geological Sciences, Pure and Industrial Chemistry, Physics and Statistics.
Programmes with 160 Cut off
Environmental Sciences – Building, Quantity Surveying & Geoinformatics, Fine and Applied Arts, Environmental Management, Estate Management.
Physical Sciences except Computer Science
Technical Education and
All Affiliate Institutions
UNIZIK Cut Off Marks
The management of the Nnamdi Azikiwe University (UNIZIK) has released the cut-off mark for the 2020/2021 academic session admission exercise.
Post UTME Cut-Off Marks.
Post UTME cutoff marks are 50% for courses whose JAMB cutoff is 200, 45% for 180 and 40% for 160.
See print-out below: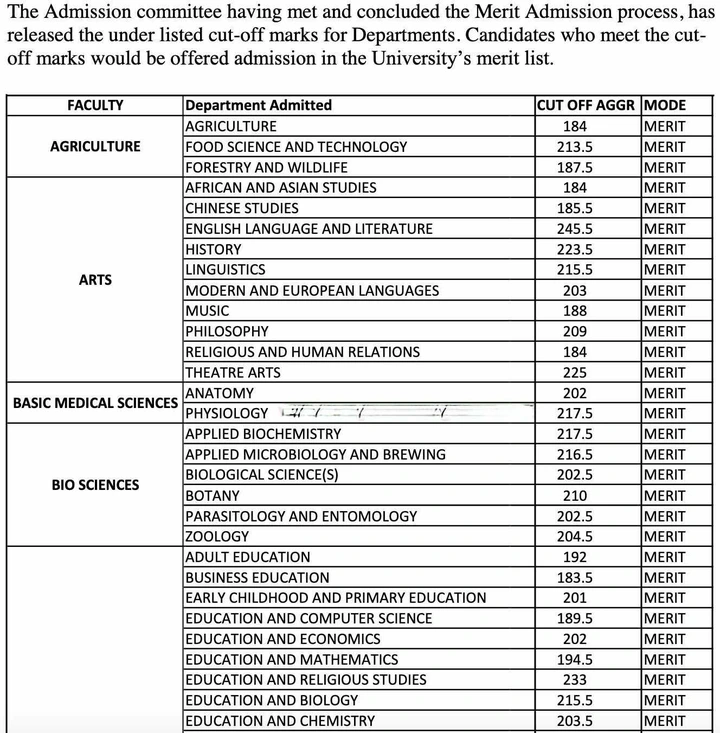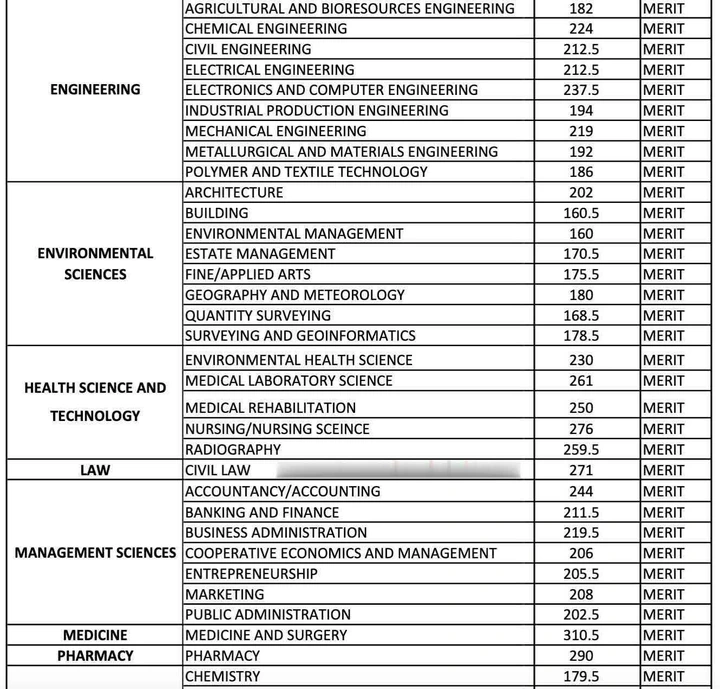 SEE- CLICK HERE TO DOWNLOAD PDF
It is important to note that these cutoff marks apply to only those who crossed their departmental Post UTME cutoff marks and at the same time are without wrong JAMB subject combinations.
Candidates should endeavour to upload their O'level results to CAPS, failure of which can deny one admission even when selected by the University.
AfriEdu Team